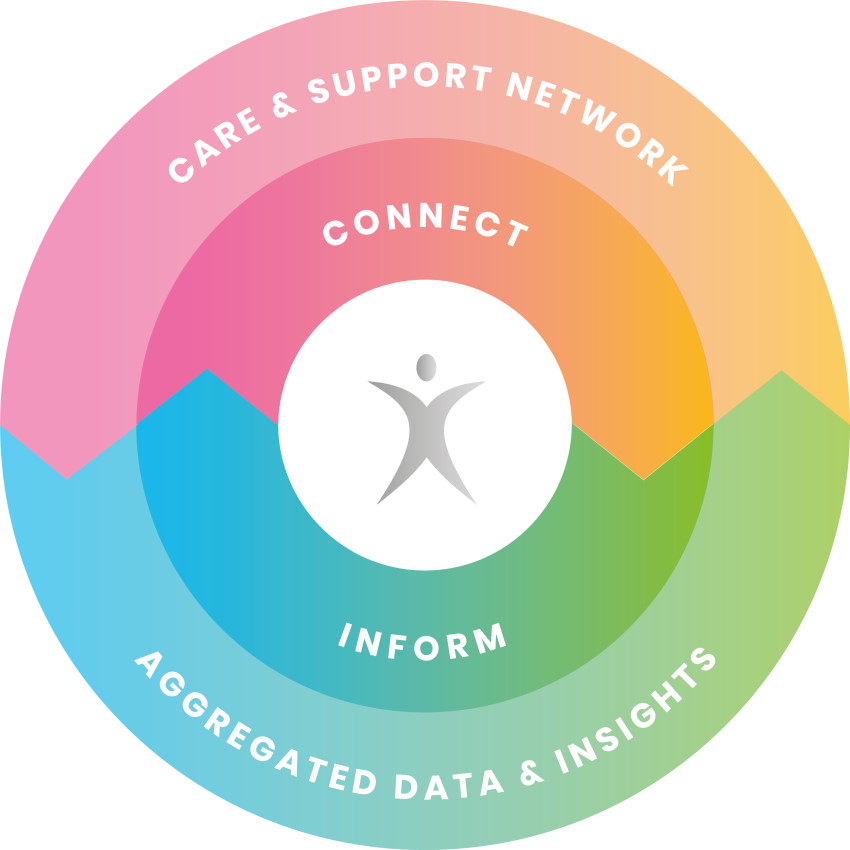 Carezapp is a technology enabled support system for care in homes, whether in a person's own home, care home, supported living, social housing, assisted living or other residential care settings
Carezapp connects people and available supports, offering better insights through smart technologies that empower people, deliver real-time information and peace of mind.
Carezapp supports the delivery of person-centred care in a holistic and unintrusive way through a user-friendly online platform and companion app. Using technology to provide better insights that support your frontline people and the people they care for, enabling enhanced care and support, more positive outcomes and more efficiency in the delivery.
Empower People
Create personalised connections for the people you support. Connect various teams and groups, such as; care and support staff, other care professionals, carers, family, friends, neighbours or volunteers.
Carezapp enables these support networks to communicate and collaborate through simple, secure and auditable tools, like chat messages and video calls. Thereby maintain connections, reducing social isolation and enhancing experiences, enabling remote wellbeing check-ins and alert verifications.
Real-Time Information
Monitor real-time information from anywhere, for example, daily living activities, the opening-closing of doors, a fridge, a medication box, bed and chair occupancy, incontinence, smoke, CO, flood, room temperatures, breathing and heart rate.
Delivered as a managed service based on the accessed needs of a supported person, sensors and devices, known as the Internet of Things (IoT), are placed within a home or residential care setting. Capable of aggregating activity, physiological and environmental data on a 24/7 year-round basis. The data is processed through Carezapp's intelligence and personalised rules engines, producing meaningful alerts, notifications and insights in supporting people, even when you cannot be there all the time!
Carezapp supports remote care monitoring, helping people prioritise and focus their attention on people who need it most. At the same time, enabling supported people to be more independent and have more control over their wellbeing and safety.
Peace of Mind
At any time, from anywhere, safely check the wellbeing of supported people. Carezapp offers the ability to be more proactive and predictive in your care and support whilst improving confidence and transparency.
The benefits of care technology have never been more apparent than in recent pandemic times. Studies have shown that providers with digital technology in place have better managed the challenges. Consumers, carers and their families are also becoming more sophisticated and increasingly expect digital solutions.
Video: Watch how Carezapp is helping to support people